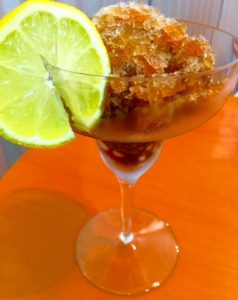 Made with DUET Sherry, this is a boozy slushy for grown ups.
1 part DUET Sherry
2 parts ginger beer (we like the spice of Fever Tree Ginger Beer)
Fresh lemon or orange
Combine the DUET and the ginger beer. Add a squeeze of juice from
the lemon or orange, to taste. Pour the mixture into a shallow metal
cake pan and freeze. After several hours, the mixture will be firm.
Because it contains alcohol, it will not freeze completely solid.
When you're ready to serve, scrape the mixture into serving cups.