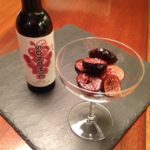 Sonomic Red brings out the sweet earthiness of roasted figs.
10-12 ripe figs
2 Tbs. unsalted butter
2 Tbs. Sonomic Red
1/4 tsp. cinnamon
Rinse  and gently dry the figs. Slice off any stem remaining, and then slice each fig in half.
Preheat the oven to 425 degrees.
Place the butter and the Sonomic Red in a small saucepan over low heat. Stir continuously as the butter melts. Add cinnamon and stir, then remove from heat.
Put the figs in a small ceramic baking dish, cut sides up, with sides touching. Drizzle with the Sonomic butter.
Bake 15 minutes and serve.