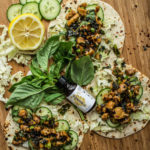 A touch of Sonomic Gold makes these chicken tacos sing.
Sweet & Spicy Sesame 
Chicken

 & Basil 

Tacos
from whatdoyoucrave.info
Yields 8
Ingredients
For the 

Chicken
2 Tbsp. olive oil
1.5 lbs. boneless, skinless 
chicken

 thighs cut into small pieces
4 cloves garlic, minced
½ cup diced green onions, plus more for serving
Handful fresh chopped basil leaves
For the Sauce
Juice from ½ a lemon
1 tsp. sesame oil
2 Tbsp. sweet soy sauce
3 Tbsp. Sonomic Gold Almost Vinegar
1 tsp. fresh grated ginger
¼ tsp. red pepper flakes
1 tsp. sesame seeds
1 tsp. cornstarch + 2 Tbsp. water
For 

Tacos
Small flour tortillas
Shredded Napa cabbage
Diced green onions
Thinly sliced cucumber
Brown Sugar Nori, crumbled (I got mine from Wholefoods)
Hot Sauce
Instructions
Make the 

Chicken
In a large skillet, heat 2 Tbsp. olive oil over medium high heat.
Add in 
chicken

 and season with a little salt and pepper. Cook for a few minutes before adding in garlic and green onions.
While the 
chicken

 is cooking make the sauce. In a small bowl combine lemon juice, sesame oil, sweet soy sauce, Sonomic Gold, ginger, pepper flakes, and sesame seeds.
In a separate bowl mix cornstarch and water then add to the sauce and whisk to combine.
When the 
chicken

 is cooked through add the sauce and cook for another minute or so until sauce thickens and coats 

chicken

. Turn off the heat and add the fresh basil and more green onions.
Assemble
Warm four tortillas in the oven, or use tongs to char over your stovetop.
Top tortillas with shredded cabbage, cucumbers, 
chicken

, and crumbled nori.
Serve with your favorite hot sauce, like Sriracha, and enjoy!